2023 Green Fees
Adults (16-60)
$10.50
Youth (5-15)
$8.50
Seniors (60 and up)
$8.50
Child (4 and under)
Free
Same Day 2nd Round
$7.50
This is intended for an individual that is purchasing 3 or 5 games in advance for themselves.
3 Play Card save $5
$26.50
5 Play Card save $8.50
$44.00
Suggestions to Make Your Round More Enjoyable
Course Rules
Pace of Play
When teeing off all players in the group should hit their first shot before anyone hits their 2nd shot. (Just like real golf)

Please try to have no more than 5 players per group.

If you have more than 5 in a group please allow smaller groups to play through.

Unlike real golf, after all the tee shots are hit the person closest to the hole should hit first, this clears the area around the hole for the players further away.

When the ball is against or close to a paver or rock you are allowed to move the ball (2) putter head lengths from the paver. No penalty stroke. This allows you to hit the ball without damaging the club head.

A ball in the water or out of bounds should be placed at the point nearest to where the ball entered the water or went out of bounds. 1 stroke penalty. Do not swing or strike the ball when off the putting surface.

A ball hit by another ball can be placed back (or close to) to its original spot – no penalty.
Safety
Do not swing the club at the golf ball, putting does not require the club head to go any higher than a foot off the ground. The putter head can cause serious injury if it strikes another player.

Do not stand directly behind or in front of another player while they are hitting the ball.

Pay attention to uneven surfaces.

Do not sit or hang on the ropes surrounding the ponds, the ropes are not intended to hold a person's weight.

Do not climb on rocks within the course or as part of the waterfall.

Do not step into the ponds (streams are ok).

Do not stand on or climb over the fence.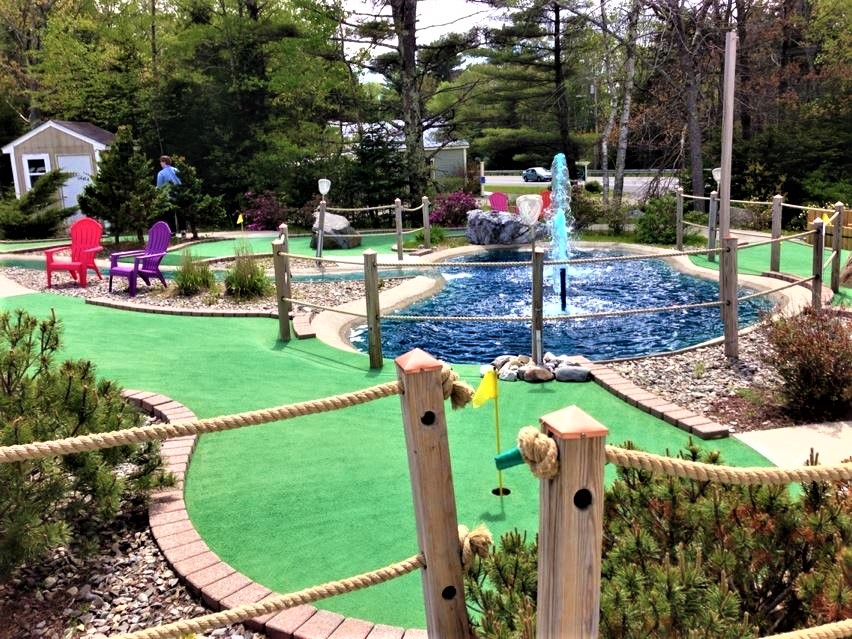 Hours of Operation
11am to 9pm Daily
Check our Facebook page incase weather is looking gloomy. Sometimes we have to close due to rain or thunderstorms.